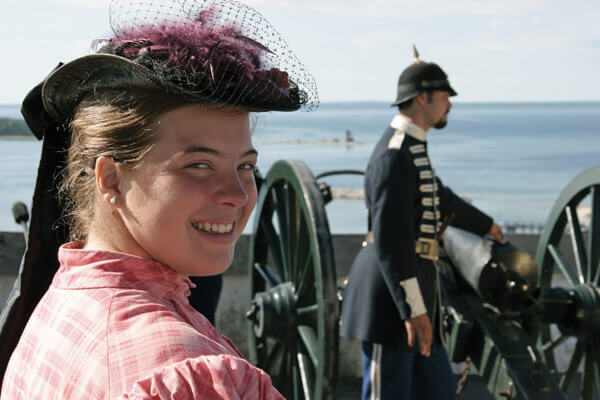 ---
Fort Mackinac was constructed on the southern bluff on Mackinac Island, 150 feet ablove the Straits of Mackinac by British soldiers during the American Revolution. The Fort overlooks Marquette Park, which was known to the Fort soldiers as their garden. The Fort was in good condition and comfortable for the soldiers and there was little fear here of attack or chance for combat because of it's location. Fort Mackinac served as a sentinel in the Straits of Mackinac for 115 years. Today, the original restored Fort is a National Historic Landmark.
It's a different time inside the ceremonial stone walls. The sounds of cannon blasts, rifles firing, soldiers marching are what brings history here to life.
Inside the oldest building in Michigan, along with 13 other historical structures, exhibits can be found highlighting military training, battles, medical treatment and what family life was like within the Fort walls.

Fort Mackinac on Mackinac Island is a must-experience attraction offering special programs for both children and adults commemorating the bicentennial of the War of 1812.
The Tea Room, located in the Fort, provides a dining experience with picturesque views over Marquette Park. Freighters and ferries pass by all season long.
Fort Mackinac is the headquarters for Mackinac National Park, once serving as home for the soldiers and their families. This is much more than just a military outpost by far. Tourists to the island then visited the great fortress on the bluff, much like they do today.
Located on Mackinac Island. Closed for the winter.
Visit www.mackinacparks.com for more information.
---
Location
Fort Mackinac, Huron Road, Mackinac Island, MI, USA
---