---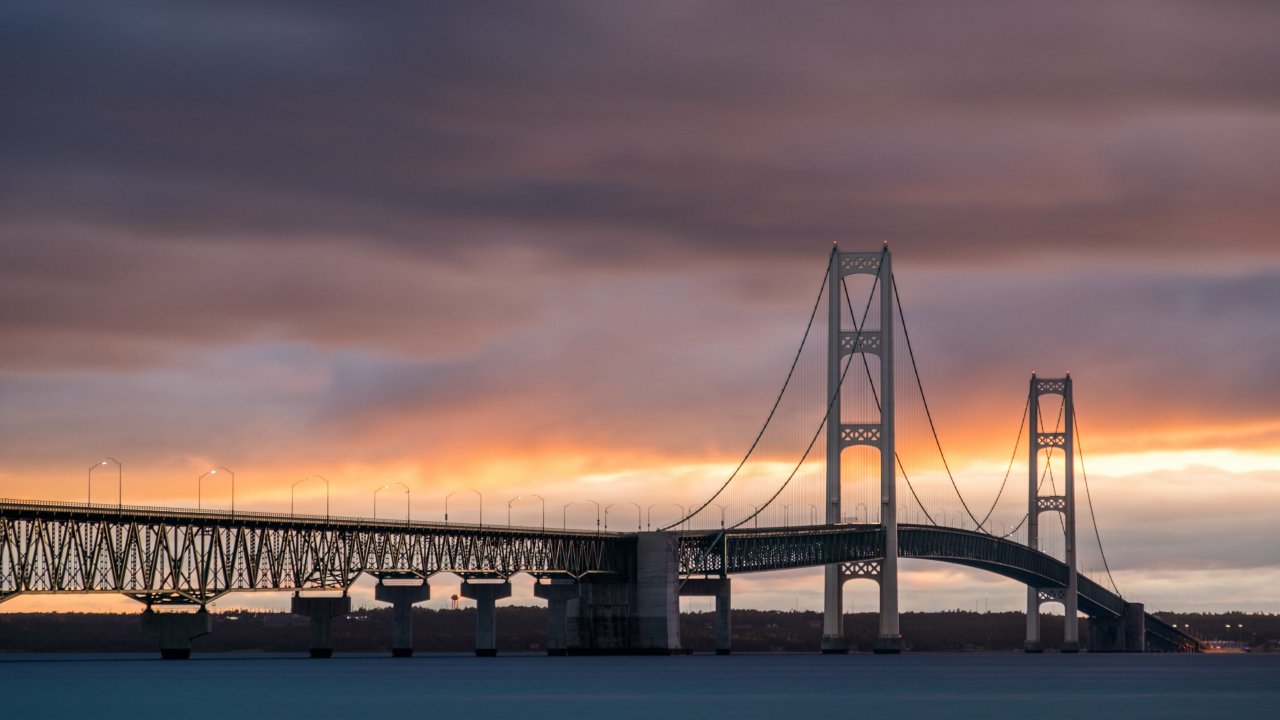 The Mackinac Bridge is one of the world's most beautiful bridges and truly something to see!
The bridge was designed by the great engineer David B. Steinman and opened on November 1, 1957. The structure took 48 months to complete with over 3, 500 workers and $99,800,000 dollars. Also know as the "Big Mac" or the "Mighty Mac", the bridge stretches 8,614 feet making it the fourth longest suspension bridge in the world. With a total span of approximately 5 miles, the Mackinac Bridge connects the Upper and Lower Peninsulas of Michigan uniting the communities of Mackinaw City and St. Ignace, Michigan. The main bridge cables are made from 42,000 miles of wire and the towers stand 554 feet above the water and 210 feet below to the bedrock. The engeneering of the Mackinac Bridge was designed to accommodate the high winds, temperature changes and constant changes of weight. In severe conditions the deck at center span could move up to 35 feet. Under more subtle conditions, the deck could move slowly in one direction based on the force and direction of the winds.
Some other fun facts about the construction of the Mackinac Bridge
* 89,000 blueprints and structural drawings were made
* 71,300 tons of structural steel
* 931,000 tons of concrete
* 42,000 miles of cable wire
* 4,851,700 steel rivets
* 1,016,600 steel bolts
* 350 engineers
* 522 feet tall
* 1,024,500 tons in total weight
* 7,500 men and women that worked in quarries, shops, mills
* 1951 Chevrolet Styleine Deluxe owned by Albert Carter was the first car to cross the Mackinac Bridge
The annual Mackinac Bridge Walk is held every year on Labor Day. Two lanes of traffic are closed and 50-80,000 people, all led by the Governor of Michigan walk together over the bridge. Bicycles are prohibitied on the Mackinac Bridge, however the Big Mac Shoreline tour is held in June and September, which takes it's participants for a trip over the bridge.
Please visit Mackinac Bridge Walk and Big Mac Shoreline Tour for more information about these events!
During the summer months, the Mackinac Bridge has become a major diverse tourist destination for bridge enthusiasts, bird-watchers and photographers.

Bridge fares begin at $2 per axle and increase from there. Fares are subject to change without notice.
---