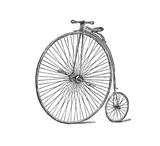 ---
Perhaps the most noticeable first impression visitors get of Mackinac Island is the absence of automobiles! Visitors and residents travel by foot, bicycle or horse drawn carriage. This tempo is more comparable to the 19th century. Tour carriages and taxis will take you wherever you want to go and it's not long before you adjust to a slower pace most visitors have never known.
With over 80% of Mackinac Island in public hands you would expect little development and, fortunately, that's true. Concerned with the disappearance of America's finest natural treasures, Congress took steps in the early 1870s to ensure that some of these treasures would be preserved for posterity. In 1872 the federal government designated Yellowstone America's first national park. In 1875 portions of federal land on popular Mackinac Island were given similar protection.
Other than issuing a small number of land leases for the sites of bluff cottages, all development was stopped. This ensured the preservation of most of the natural limestone formations such as Skull Cave, Arch Rock and Sugar Loaf. Twenty years later, when the last U.S. army soldiers left Fort Mackinac, all federal land, including the fort, became Michigan's first state park. The newly appointed Park Commission limited all private development in the park and required leaseholders to maintain the distinctive Victorian architecture of their bluff cottages. In recent years the historical sites and fort buildings such as the Officers' Stone Quarters have been restored to their original condition and brought to life through dioramas, period settings, guided tours and reenactments for the benefit of the thousands of summer visitors.
When the Park Commission purchased a Victorian cottage near Fort Mackinac in 1945 and designated it the Governor's Summer Residence, it ensured politicians would beat a path to its door. John Kennedy rocked on the porch with Governor G. Mennen Williams in 1960 and won his important support for the Democratic nomination that year. More recently Bill Clinton, Newt Gingrich and Bob Dole conferred with state politicians here.
---