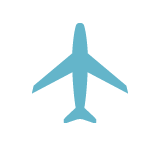 ---
Mackinac Island Airport
The Mackinac Island Airport has a 3,500 foot, lighted, paved runway, capable of handling private and charter aircraft. For more airport information, click here.
Commercial Airlines
PELLSTON REGIONAL AIRPORT – Mackinac Island is served by the Pellston, Michigan airport located 12 miles south of Mackinaw City.
CHIPPEWA COUNTY AIRPORT – 40 miles from Mackinac, this regional airport offers daily non-stop flights on Delta from Detroit and Minneapolis. Ground shuttle service and car rentals can be arranged to get you to Mackinac Island.
FRESH AIR AVIATION – Offers charter flights through the Great Lakes region. Flights to Chippewa Airport, St. Ignace, Pellston or booking a charter service is also available.
GREAT LAKES AIR – This is an affordably priced, professional passenger service to and from St. Ignace and charter service from mainland airports throughout Northern Michigan.
NORTH COUNTRY AVIATION – Provides the most extensive line of services of any aircraft charter company in northern Michigan.
Flight Services
Great Lakes Air 906-643-7165, Air Services Inc. 888-922-0406, Northwest Airlines 800-225-2525, American Business Airways 248-444-5202.
Ground Services
Mackinac Shuttle 888-349-8294, Wolverine Stage 800-825-1450, Island Airport Weather 906-847-3778, Mackinac Island Airport 906-847-3231.
---